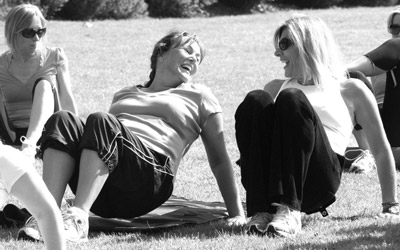 Success Stories
Here are some great testimonials!!
"I highly recommend .  I've been attending for two months.  The camps are always challenging, but Stu's boundless energy and enthusiasm are infectious and allow you to push your training to the next level.  Not only does Stu run a great boot camp, he also offers support and advice on sports nutrition and preparation for sporting events. Already I notice changes in my body, more definition in my arms and abs. Thanks Stu!"
'I have been doing boot camp for about 4 months now and I love it!  Exercising in the fresh air is great and so much nicer than being stuck in a gym. Tanya is really supportive, encouraging and great fun.  Every session is different and Tanya is brilliant at motivating you and encouraging everyone in the group to exercise that little bit harder but at the same making sure you are performing the exercises correctly.   My all round fitness has improved as well as the strength in my upper body.  I feel so much better since starting! The group is really friendly and I would recommend it to anyone!  – Janet – Adventure Boot Camp Shepperton
I first joined Bootcamp in September 2010 and I have been hooked ever since!
The camp sessions have made me much more fitter and more confident reaching my personal goals. This year I took part in the 10K Bluewater run in June. It was an amazing feeling to be part of a group of thousands all competing against the course and aiming for their best time. I was really pleased with myself getting round in 1hr 6mins and 50secs which I am sure would not have been the case had I not been to Adventure Boot Camp!
Well done Claire! See here for more of our success stories!