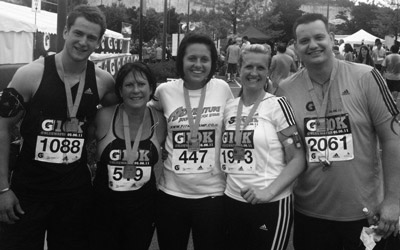 I can't begin to explain how fun Kate's bootcamps are. Every session is fun and effective, targeting the whole body and keeping the heart rate up at all times. The exercises are creative and interesting and Kate's enthusiasm and friendly nature makes you almost forget that you are exercising. I also love the music, the kit she uses and her method of training. It is perfect for toning, losing fat and leaving the session with a huge smile on your face. Training in a group and in the great outdoors makes you feel part of a great community and its made me realise that gyms can actually be a very lonely, dull place!
Lucy Miller
Fitness Editor
Health and Fitness Magazine
My reasons for starting boot camp was because I had just had my second child and I wanted to lose the weight as quick as I could. Also, mentally I wasn't in a great place in fact throughout the first year my dad had suffered strokes my twin sister was unwell and I had a court case which affected my business. If I hadn't of found Boot Camp and Nicki I don't know what I would have done. Now over a year after joining I have lost over 14 lbs and I am a size 8, I am the fittest I have ever been and I am 100% focused and I am training for the London Marathon. Boot camp and Nicki have been a massive inspiration to me. Nicki is without doubt the best trainer and she will make you find levels of fitness and pain you never thought possible. The camps are different everyday and over the year not one camp has been the same. I have made some incredible friends at Boot Camp and found myself again. Thank you for all your support!! Oh, and I got to train with Daley Thompson which was excellent!!
Christine Blundell
I thought I might be the only one at the 5.45am session! I was surprised at what a turn out there was and surprised too at how much I enjoyed it – a great start to the day. I certainly worked much harder than I would if I were working out on my own yet never felt I had to be in competition with or keep up with anyone.
Ann-Marie
I am hooked! Getting up at 5.15 for a 6am start is now my routine and I'm loving it. Stu is not only a great trainer but he's so much fun too. I am a regular member of a local gym but love my early morning sessions outside. I'd never wake up this early to go to a gym! The other women are really friendly and a joy to be with. Even during our week off between boot camps we decided to go running three mornings at 6am! Well done Stu – it's brilliant. I can't wait to do more.
Zanna
I have been attending Adventure Boot Camp for a few months with Stuart in Marlow. I have to say, it has been absolutely fabulous. Everyone has noticed a difference in me and it is the first time in my life that I have achieved this level of fitness. I never thought I would improve, but with Stuart's encouragement, I have come on in leaps and bounds. The first achievement was actually being able to run around the cricket pitch for the first time, but now I can run around the whole park! Thanks so much to Stuart for his never-ending support, encouragement and belief that we will improve – he's great!
Verity
I have just completed a 5 week camp. I had my second child 4 months ago and was determined to get fit and tone up. Adventure Boot Camp fitted the bill, the 6am start meant I could get home as everyone was getting up. However I was a bit nervous as I hadn't exercised for an hour in so long.
I can honestly say I did not dread getting out of bed once, the camp was fun, varied and being outside so much more refreshing than a hot, sweaty gym. Katie was a fantastic trainer, she was friendly and kept us going through wind, rain and the first winter frost.
And the results….. I've lost 4lbs, nearly 9 inches and knocked 1 min 18 seconds off my mile time trial – I have never run so fast!
I feel so much better as a result and it's also motivated me to continue keeping fit, so my next goal is the Reading Half Marathon on March. Thanks Katie!"
Clare
"Nicki is inspirational. Attending her boot camp is the best thing I have ever done exercise-wise and thanks to her support, encouragement and energy I am working hard, enjoying the fresh air, her expert, but innovative approach AND losing inches. Nicki drives you further than you ever thought you could go. She is brilliant at what she does and really lovely with it."
Mary Keeley
Kate Staples is an excellent fitness trainer. Her years of experience are matched only by her enthusiasm for life.
Paul Mckenna
I arrived at bootcamp feeling overweight and out of shape – a coach potato who loved my food and knew it was time for a change and kate's boot camp sounded like just the cure. What I wanted was something to jump start me into better fitness and eating habits. What could be better than fitness training with other women under the guidance of an experienced trainer? The variety of activities and pace of the class made the hour fly by each day. Don't get me wrong we work. Kate pushed me harder than I would ever push myself working out alone. She pushed the fittest girls on and and was patient with those who were slower and weaker. The results are impressive. During the four weeks I lost two inches each around my chest, waist, and hips. I also lost over one inch on each and one mile run time by 10%. Not only has my body shape changed completely but I feel stronger and have so much more energy.
Kates focuses on high intensity strength training. She has given me dramatic results, fast.
Claire Friend
Kate's training is simply the best I have ever done. Hard work, great fun with AMAZING results I'm totally hooked!!
Wendy Osario
Kate's bootcamp is the best training I have ever done. The most effective, the most fun and the only fitness training I have ever wantd to keep up. It's brilliant and I would recommend it to anybody.
Thank you kate.
Lynn
Fantastic way to kick start your body into training! I'm quite unfit but found I could go at my own pace as well as keeping up waith the rest and pushing myself. Very social and lots of fun – great set of girls to work out with…. even found myself looking foward to getting up in the morning! Unheard of will definiately do the next bootcamp .
See you there!
Kate
What a brilliant way to keep fit. I haven't done any serious exercise since my daughter was born ten years ago, after working with Kate for a four week camp I feel really fit. What a great bunch of girls to work out with, Can't wait for the next one.
Jules
Very good fun, very effective, and very, very addictive! ps I owe my buttocks to you!
Anonymous
Absolutely fabulous. I have a new lease of life –
Than you kate.
Sally
When I started doing Kate Staples' Fitness Camp in January 2006, I never thought I would get so completely hooked. It's never dull or boring like I used to find the gym. I always look forward to each session not only for the benefits of the exercise, but because it really is great fun.
I do 3×1 hour sessions per week. I love the fact that I am exercising outdoors and that there is a very good mix of activities in each of the sessions. You can go at your own pace but you always feel motivated to see if you can do just a little bit more. By the end of the week I know I will have exercised every conceivable part of my body!
The best bit of all though, is that, in the time I have been doing Kate's sessions I have lost just over 2 stone in weight, gone down 2 dress sizes and my body shape has really changed, it is much much more toned. I noticed the difference in my fitness level quite quickly after I started and I have so much more energy than I used to. I honestly don't think that I have ever been as fit as I feel now.
I'm not the only one to have noticed the difference. Friends who haven't seen me in a while have been amazed at the change and want to know what I have been doing! I really can't recommend Kate's Fitness camp highly enough – you just have to try it!
Christel
Hi Kate
Just getting back to you on my feelings on how your Bootcamp has helped me.
I started Bootcamp about 9 months ago and I was quite nervous and not sure if I would be able to keep up. I was not in good shape at all. Two years prior to that, I was diagnosed with breast cancer and had a bi-lateral mastectomy. Due to the surgery and my lack of a fitness routine, I had lost all of my upper body strength, besides the obvious bits. . I had gained 20 lbs and my body was not mine. I was feeling very low about myself but having trouble motivating myself to do anything about it. A good friend persuaded me to try Kate's Adventure Bootcamp.
I distinctly remember one of my very first sessions when Kate was timing us for a short run, crunches and press-ups. Needles to say, I was pathetic. The short run was more of a walk for me, I was barely able to do a few crunches and I could not do one press-up. At that point, I just broke down in tears. Kate reassured me not to worry about this and that I was going to see an improvement in time. I wanted to run away but at the same time knew that it was time to get my body back. Kate is a fantastic motivator and has continued to gently push me along with positive reinforcement. Even on the coldest, dampest, grey Monday morning, Kate would be there with a great big smile, and just get us moving. The sessions are fun and always different so that we don't get bored in our routine. It is great to be outdoors with a great group of women, all just basically trying to stay healthy.
It is nine months since that awful morning when I couldn't do one press-up. Kate recently timed us .. No tears this time—I did 31 press-ups in a minute. I feel so good about myself. I had another recent accomplishment to thank boot camp for. A group of mums went water skiing last year and since I had skied when I was younger, I thought it would be fun to try again. Of course, with no upper body strength, I could not pull myself out of the water and get up on the skis. I was devastated. We went back this year and I skied. It felt great and I felt strong and I couldn't have done it without Bootcamp training. I have lost most of the weight that I had put on and I am a happier person because I am back in a body that I feel comfortable in. My husband Tom would agree that Bootcamp has done so much for my body and soul.
I don't think that I would have gotten the same results had I joined a gym. I probably would have gone to the gym for a few months ,quit, and then felt guilty about quitting. I haven't wanted to quit Bootcamp once. In fact, Kate has motivated me to do more. I turned 40 this year and I am fitter than I have been in years, thanks to Kate's Bootcamp.
Well, Kate, hope that I haven't gone on too much. You are probably regretting asking me to write at all. Please feel free to edit as need be. And THANK YOU for making a huge difference in my life!!!!
Luv,
Fran